Announcement
WELCOME TO TRADIER OPTIONS BREW!
Tradier Inc. is excited to announce its live web series: Options Brew!
---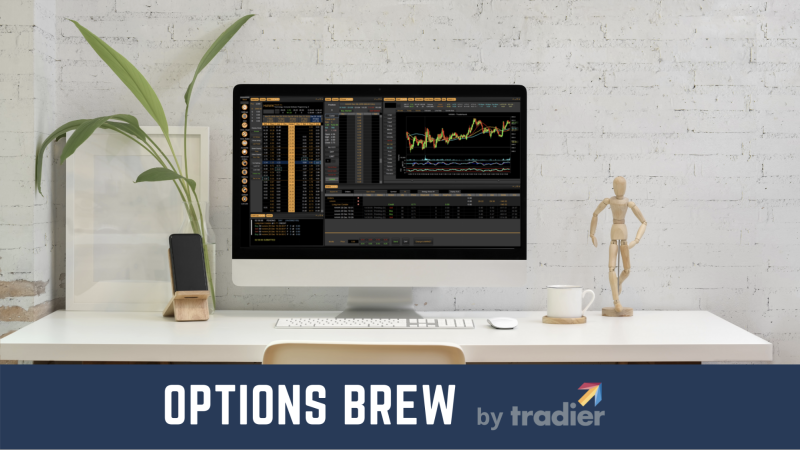 Tradier Inc. is excited to announce its live web series: Options Brew!
Now more than ever, people are taking control of their finances and using options as their go-to investment tool. Formerly a financial instrument for the select few, options are experiencing explosive growth as both new and veteran traders seek to diversify their investment tools.
The active Tradier community, a blend of successful traders and advanced platforms, is creating a new generation of engaged options traders who are looking for innovative ways to gain an edge in the market. Tradier is introducing Options Brew as a way to gain that competitive edge.
Options Brew host Kevin "Lex" Luthringshausen, a former professional options trader with decades of experience, will demystify options trading and discuss the strategies and philosophies of today's successful traders along with an exciting list of special guests. The Options Brew will serve up a lively interaction and discussions among industry professionals, including traders, educators, business leaders, and content providers.
Join Lex as he talks shop with these industry leaders who will discuss a variety of options topics, including the health of the market, industry news, and investment strategies and tools they use on a daily basis.
As a special bonus, Options Brew will be offering 100 seats in its virtual audience for each episode; virtual audience members can join Lex and his special guests live and ask questions about topics presented. The first episode is scheduled for mid-July 2020! Pre-register now: RSVP for Options Brew
Subscribe to our YouTube channel, and follow us on Twitter….so you don't miss out when we go live. Options Brew will be your go-to source for all things options trading!
*All opinions expressed on the Options Brew are solely opinions of the show's host or guests and do not reflect the opinions of Tradier Inc. or its affiliates. You should not treat any opinion expressed on the show as a specific inducement to make a particular investment or follow a particular strategy, but only as an expression of opinion. Options are not suitable for all investors as the special risks inherent to options trading may expose investors to potentially rapid and substantial losses please consider your financial condition and investment objectives before investing.