Todd Horwitz Commentry
Trade Unafraid: Trading on Autopilot
Most traders learn this lesson at one point or another: even if you are armed with great trading tools and a great strategy, it is hard to follow a trading plan
---

Most traders learn this lesson at one point or another: even if you are armed with great trading tools and a great strategy, it is hard to follow a trading plan to the T every time. Emotions and impulsivity often get in the way of leading productive trading strategies or mitigating loss.
Aiming for Efficiency
Founder and CEO of Grey Matter, LLC, Lee Grey wished for a platform that would help him prepare strategies and execute them efficiently, so he built one: Trade Unafraid.
Trade Unafraid is for the trader who wants to execute plans with precision and without strategy-killing emotion. It helps you form your strategy, then executes it automatically, leaving you to relax on autopilot.
We asked Founder and CEO Lee Grey some questions about his vision, his product, and what customers think about Trade Unafraid. Read on to learn more about Grey's product and vision.
What is Trade Unafraid?
"Trade Unafraid is an automated trading platform . . . [It's] your trading wingman, and an easier-to-use trading platform, all in one. With Trade Unafraid, you create a Trade Plan consisting of a setup, filters, and the exit tactics of your choice. It can execute the whole Trade Plan on its own, or you can manually override if you choose. It will dynamically adjust candle trails, take profits, and even detect reversals, all with the goal of minimizing losses, maximizing gains, and reducing the stress of managing trades."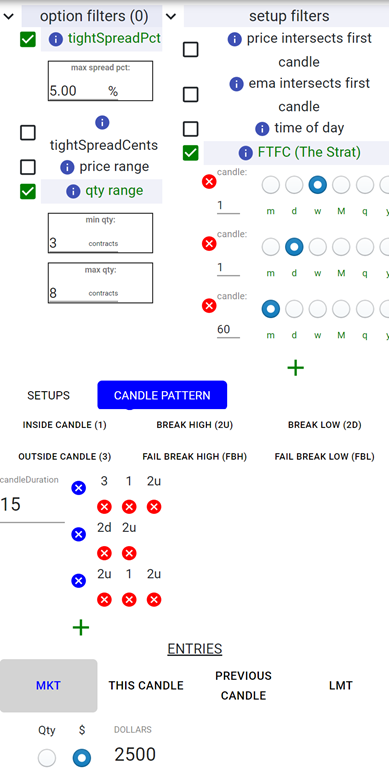 What prompted you to create Trade Unafraid?
"I love the idea of patterns and artificial intelligence that can detect what the market will do next. The problem is the market doesn't always do what it's 'supposed' to. So, for a trader like me, Trade Unafraid's ability to execute a plan is so powerful. It exits without a problem, and typically with a much smaller loss than I would have taken manually."
What do you think online investors are looking for?
"Traders are looking for some kind of edge trading against machines that are better funded, less emotional, and faster than they are. When used properly, Trade Unafraid should protect traders from those emotional, account-killing decisions, like doubling down, holding beyond your stop . . . and all the other damaging moves that human traders are inclined to make."
What do clients love about your product?
"We've all heard 'Plan your trade, and trade your plan,' but that can be difficult for some and far too coarse for others. A plan with three prices, an entry, a stop, and a target is fraught with emotional moments along the way. Trade Unafraid is the perfect balance of automation and manual trading. Even in the midst of a trade plan, the trader can step in and override anything about it far easier than in conventional trading tools. For example, in your standard trading tools, if you have an OCO bracket and decide you want to take a partial profit, there are multiple steps required to reduce the quantity of the bracket and create a new market or limit order to exit a portion. With Trade Unafraid, you simply click a button, and the software handles all of the order changes automatically."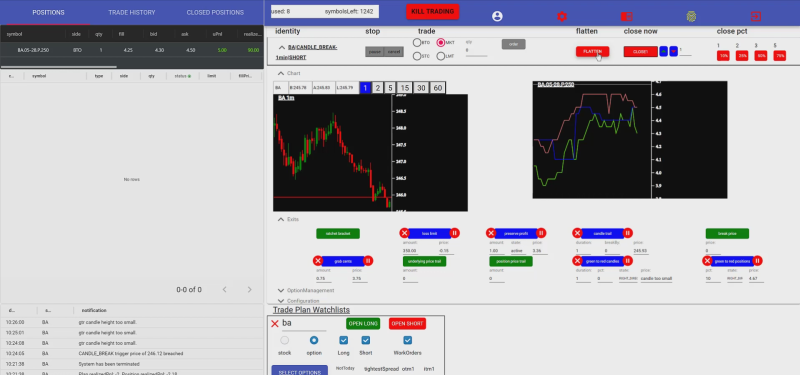 What technology was employed to build Trade Unafraid?
"The architecture is something special that we don't get to talk about often. Each user gets their own private server for performance and security. Each server is located in New York, so people around the world have the benefit of their trades originating near the exchange. The server software is written in Java and makes heavy use of reactive streams for low-latency. The user interface, written in React, runs in a browser, so it is not limited by operating system."
What do customers say about Trade Unafraid?
"We have some very enthusiastic users. Two-thirds of our beta testers became paying customers."
These are some comments from our users:
Best solution in town :), and also very good support from Ethan and Lee!
I am excited to learn better how to manipulate the Trade Afraid software and to be able to put in orders that have multiple profit targets and a stopless all in one order entry.......it is so amazing!!
With Trade Unafraid, I can see myself building my own trading robot that makes money without getting emotionally involved with trades. This is going to be huge in my opinion.
What is your relationship with Tradier?
"Over the years that we have been developing Trade Unafraid, we have had the opportunity to interact with most of the Tradier founders and executive team. We have always found them to be accessible, supportive, and professional. There are some ways that I believe Trade Unafraid has pushed Tradier's API beyond prior users' needs, and we have found Tradier's team to be responsive and agile in meeting those needs."
Find Out More
Tradier users can get their first two months of Trade Unafraid at the discounted rate of $50 per month. Simply enter the promo code TRADIER at checkout.
For more information about Trade Unafraid, visit their site or check out their YouTube channel to see the platform in action.
To learn more about how Tradier delivers trading capabilities to partners, developers, and traders, visit our site.
About Lee Grey
Founder and CEO Lee Grey has worked in the world of enterprise software and integration since leaving avionics in 2000. Early in his software career, Lee published Option Insight, a popular retail options trading product. An electrical engineering summa cum laude graduate from Georgia Tech, he has worked on complex software systems as varied as flight simulators, avionics, and large financial systems. Lee has also spent substantial time implementing several algorithmic trading systems.