Announcement
Can AI give active traders an edge?
Tradier is a widely popular and extensively used Brokerage API and Brokerage firm that supports hundreds of platforms and tens of thousands of Traders globally.
---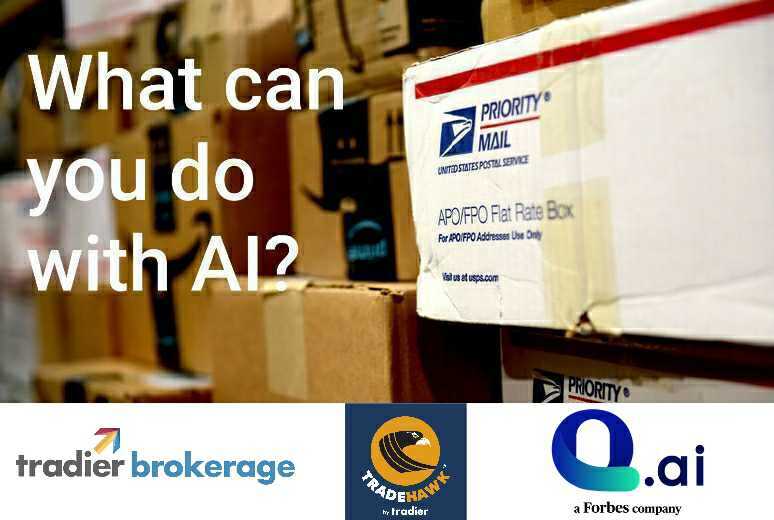 We've all heard the stories about how artificial intelligence is disrupting industries, and financial services is not immune. For firms that have the technical resources, AI-driven strategies are becoming increasingly popular. But what if you could leverage AI as easily as you shop online?
The timing for neatly packaged and accessible AI-driven trading is perfect. Markets are seeing atypical fluctuations, hitting monthly highs and lows within months of each other. With equity and commodity prices swinging wildly, even the most sophisticated traders are experiencing unprecedented volatility. That's why now, more than ever, the ability to intelligently act fast is crucial for active traders. It's not just about speed, however: traders have to act quickly and responsibly.
To keep up with the current market climate, active traders need to ingest mountains of information so that, when the time is right, they can trade with confidence. The market moves quickly, however, and keeping up is challenging; time spent seeking signals is time not spent making trades or improving your strategy.
Recently, Tradier entered into a partnership with Q.ai, a Forbes company, to bring AI-driven intelligent investing to retail investors at a reasonable cost. Powered by Tradier's robust trading software and injected with intelligence from Q.ai, traders can make smarter, faster trades with zero commissions.*
Q.ai is an idea generator: the platform uses machine-learning algorithms, multi-factor models, and other deep quantitative AI tools to analyze baskets of equities and ETFs to find otherwise hidden buy and sell signals. Q.ai then builds options trading strategies around these signals, which TradeHawk users can then choose to act on in one click.
Q.ai CEO and Founder Stephen Mathai-Davis said, "As active investors and traders, the team at Q.ai understands the value of real-time data and insights to retail investors, and our AI-based engines will help them get a better edge on the market." Q.ai's rich data and Tradier's powerful software will be bundled together and available through TradeHawk, Tradier's full-featured stock and options trading platform.
Both companies understand the value of good information and have seen how advanced machine learning-based strategies can benefit retail investors. The Tradier and Q.ai partnership makes these high-performing strategies accessible to any investor, giving them a potential edge in a time where every advantage counts.
Take AI for a test drive today.
*Single Listed Index Options are subject to a $0.35/contract fee in addition to any other charges for exchange, OCC and regulatory fees. See Fee Schedule for more details.