Announcement
Opening up access to financial markets from the hands of Legacy Online Brokers
Tradier is a widely popular and extensively used Brokerage API and Brokerage firm that supports hundreds of platforms and tens of thousands of Traders Globally
---


How hundreds of trading and digital investing platforms depend on Tradier making it one of the fasted growing brokerage firms to process millions of trades and shares valued at billions of dollars.
For decades, large brokerage firms decided how the average investor invested in the stock market. The incumbent players set the goal posts on how investors learn about the market, process market insights, consume content, perform analysis and, most importantly the fees for service. With the limitations in technology, it comes as no surprise that the market is dominated by players such as Charles Schwab, TD Ameritrade, E*Trade, Interactive Brokers and Fidelity.
Over the last 7 years, however, the tectonic plates of financial services have shifted. Technology has altered the landscape of investor interaction with the stock market, now enabled by the internet, and the rising demand for digital investing experiences. These changes have led to rapid unbundling of the traditional brokerage house and investors seeking much better platforms and value that meets their own needs.
The inescapable demand for personalized experiences by online investors, paired with the inability of legacy brokers to innovate, has ushered in a new breed of offerings, apps and services that are bringing new ways of trading, investing and content to market. Tens of millions of online investors across the globe are adopting these platforms in droves. Supporting more than 200 of these platforms is an API-focused brokerage firm called Tradier.
Meet Tradier - The open fabric that is powering Investing
Tradier was built with the goal of opening markets through an ecosystem that creates more choice, lowers prices, and encourages innovation in ways the traditional players have failed to enable. Brokerage is a burdensome, yet essential component required by any trading platform that seeks to connect investors to the stock market. Tradier solves this problem with its "Brokerage as a Service" offering. It offers a very rich suite of application programming interfaces (APIs) and web properties that simplifies what would be years of technology, regulatory and data hurdles. Companies can build trading and investing platforms within weeks, that traditionally required years and millions of dollars create.
As a cloud fabric offering, Tradier APIs are readily available for anyone to launch their investing platforms. Tradier provides an array of one-stop solutions ranging from APIs and web capabilities that enable developers to build custom trading, research, analysis, robo-advisory and real-time data applications. Everything from account opening, funding services, portfolio management, trading and reports are available and easy to adopt as APIs and web modules for everyone to use. Dan Raju, Co-Founder and CEO of Tradier says "Think of Tradier as your Brokerage extension whose main goal is to enable you and see you build great investor products and succeed".
A few firms like Interactive Brokers, TD, E*TRADE offer connectivity-based products today but are limited by challenges attempting to put API wrappers on legacy backoffice infrastructures and support structures. Most legacy brokers have huge conflicts asking trading platforms to use them as a back office when they are offering direct investor products themselves that compete with them.
Today, Tradier is the fastest growing ecosystem of connected investor applications in the market with over 200 supported platforms. More and more active traders prefer to use a Tradier connected platform rather than the legacy alternatives as they always get better value, functionality and most importantly support.
Trade Hawk harnesses Tradier's APIs to revolutionize active trading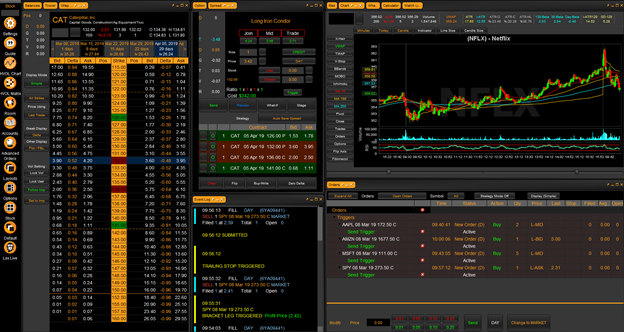 TradeHawk, one of Tradier's supported platforms, is among the nation's fastest growing equity and options trading platforms. Built on innovative stock and options trading technology and designed by professional traders, TradeHawk has positioned itself as a viable alternative to TD Ameritrade's Thinkorswim, Interactive Brokers, and Fidelity. With an intuitive interface and user friendly system, TradeHawk provides retail traders with an edge in the market to stay on top of current trends and identify investing opportunities.
Today, TradeHawk has gained wide popularity in the market and is highly sought-after by active traders who perceive it as an open, customizable platform with an engaging educational interface for options traders. Powered by Tradier, TradeHawk rapidly expanded its ability to offer a seamless experience with unlimited, commission-free equity and options trading.
This powerful combination of comprehensive trading services combined with unlimited, commission-free trading has accelerated the growth and adoption of the platform. TradeHawk subscribers have save thousands of dollars in monthly commissions while enjoying a holistic trader experience. TradeHawk offers order entry, order management, risk analysis, simulation, alerts, advanced and conditional orders, charting, portfolio management, and spread logs to name a few powerful tools.
As CEO Kevin "Lex" Luthringshausen says, "We at TradeHawk have a simple mission to provide the best technology, experience and value for our traders. We are happy that by leveraging Tradier, we are able to offer a compelling product in the market."
Evati democratizes investing for everyone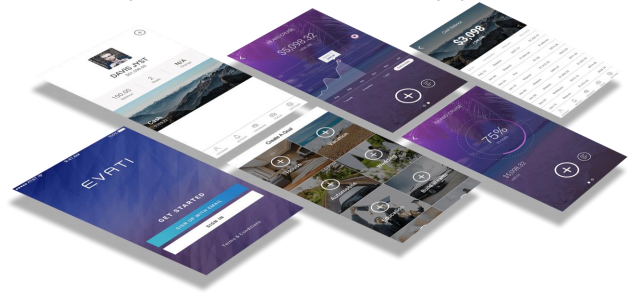 Evati is a rapidly growing Digital Advisor. Evati had a simple mission: making saving and investing easy and accessible to everyone. CEO Pete Clemson wanted to create a product that would empower the everyday investor to balance today's lifestyle goals with of tomorrow's financial needs.
In order to accomplish this goal, Evati needed a brokerage solution that would enable average investors to open an account easily, fund their accounts with large and micro deposits seamlessly, and offer an intuitive portfolio experience in a scalable and secure manner.
Using Tradier's New Account Opening API, Funding API, Account Services API and Trading API, Clemson and the Evati team were able to create an easy-to-use, inexpensive platform tailored to empower investors of any background to achieve even a wide range of financial goals.
Today, Evati offers an innovative way for casual finance dilettantes to be smart about their money. Investors of any experience can customize their investment goals and monitor their performance. Evati's goal-based investing is free for the first month and then only $1 per month for accounts under $5,000 and after that a small 0.36% per year charge Yearly.
"We are excited about our growth and adoption of Evati from consumers," said Clemson, "Tradier has been instrumental in providing essential brokerage microservices that Evati needs in order to deliver our services."
Tradier is a unique solution designed to empower ideas. From TradeHawk's equity and options trading platform to Evati's robo advising platform, Tradier's APIs can allow creative individuals to focus on harnessing the power of ideas without the hassle of piecing together the tech know-how.