Tradier in the News
STOCK AND OPTIONS TRADING API: TRADIER API vs INTERACTIVE BROKERS TWS API
TRADIER API vs INTERACTIVE BROKERS TWS API
---
Why Tradier has been a better choice to build an equity or options platform for so many
Rest based Approach: The Tradier API is secure and built to fully support HTTP and tested to function effectively across browsers, mobile operating systems and IOT devices. If you are building a trading platform, robo advisor, social, mobile or a web experience, Tradier a better API because of our "API First" focus.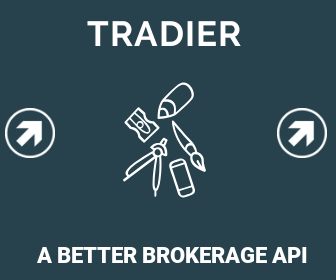 Tuned: Tradier API calls are tested, tuned and used by actual traders and developers. Tradier is constantly looking at the responsive times of all our large and innovative companies using the Tradier API and has constantly made the Tradier API better.
Sandbox or Virtual Trading: Tradier offers a Virtual Trading and Delayed market data API so that you can test a strategy with virtual money. You can use the Data API's to build innovative products and also can offer virtual accounts to your customers. This is a great way to get new users to try your product quickly. Tradier's Virtual Trading API supports Equity and Options Trading. This is another differentiator from Interactive Brokers.
Tradier API a Complete Stock and Options API: The Tradier API includes following
1) Account Opening to build your own fully custom onboarding
2) Account Funding
3) Balances and Positions
4) Activity and History
5) Statements and Confirms
6) Equity Trading types across all US listed securities
7) Single and Multi-Leg Options Trading
8) Real-time Data
https://developer.tradier.com/
Cost: Tradier does not charge for API usage. Tradier makes money like any typical brokerage. Commissions are structured so that customers are not paying large commissions and are able to keep these costs to a minimum.
Account Minimums: Tradier does not have account minimums for accounts from referred from partners. IB requires a 10K minimum.
Onboarding: Tradier supports International (Non-US) accounts. Tradier also collaborates with you to understand your product and help you navigate it through regulatory complexities.
Developer Focus: It's built by developers, for developers. Tradier is one of the largest and widely used Fintech API in the market.
It's about a partnership: Tradier strongly believe in co-innovation. Tradier works as an extension of your build process and we will be there to support you on aspect of technology, compliance and launch.
Competing with you: Tradier: Tradier is a B2B focused firm whose main goal is to support you on your growth journey. Unlike other brokers, Tradier does not have a combined B2B - B2C focus because they do not want to compete with their clients and partners who have a B2C focus.
Support: Tradier developers supports all aspects of the API and are available for you as your build and grow your platform.