Tradier in the News
Equities.com launches a Robinhood alternative for retail investors and to its 300,000 plus users
Equities.com in partnership with Tradier Brokerage Inc. is pleased today to announce the availability of commission free & unlimited equity trading.
---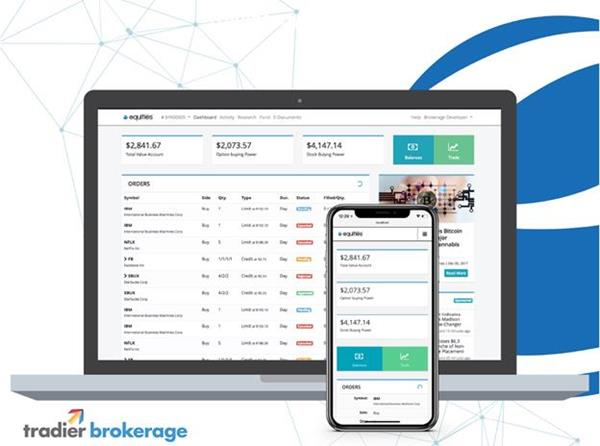 Equities.com in partnership with Tradier Brokerage Inc. is pleased today to announce the availability of commission free & unlimited equity trading from its platform to retail investors and its growing base of 300,000 users per month. Over the last few years the market has seen firms offer limited commission or free stock trading while still charging $9-$19 per month for other "must have" features or requiring large minimum account balances. Equities' platform will allow its users to trade unlimited stock shares for zero commissions but with no premium package to purchase. There are no limits as to the number of shares traded or the number of trades, and no account minimums. Equities.com also offers a wide variety of editorial content and free real-time market data that allows users to easily research companies trade directly from its platform.
"At Equities.com we believe in total transparency, great content and value for millennials, active investors and everybody in between. Equities has been serving clients with great content, coverage and research for over two decades and now with enabling unlimited free trading through Tradier Brokerage, we are able to create a one-stop shop for everything the client is looking for," said Michael MacDonald, CEO of Equities.com. "We are an experienced company. We are excited to offer a more transparent alternate to the market combined with quality content. The key is that we are just getting started and expecting to release more features including a native mobile app over the next few months."
More advanced users can also trade unlimited options from within the Equities.com platform for a fixed $89.95/month. There is no limit on number of trades or number of contracts. All OCC and any regulatory fees will be passed on to the customer similar to other firms.
"Innovative companies like Equities.com through their integration with Tradier Brokerage are able to put powerful tools into the hands of the investors that do not exist before. I am happy to see that firms like Equities.com are able to create better products in the market than the legacy limited mobile apps," said Dan Raju, CEO of Tradier. "We are excited that innovators from all across the globe use using the Tradier API to innovate."
About Equities.com
Equities.com® is a leading financial news source for emerging growth companies and an investor community. With 300,000+ active users per month, Equities.com® connects global investors, executives, financial experts and industry professionals. Equities.com® provides breaking editorial news coverage, company information, and sponsored content leveraging its own distribution network and its over 50,000 distribution partners. Its goal is to provide compelling independent news, content and data on fast growing companies and new emerging trends while providing public and private corporate clients visibility in front of millions of potential investors, influencers, and decision makers.
About Tradier Brokerage Inc.
Tradier Brokerage, Inc. — a member FINRA and SIPC is an independent subsidiary of Tradier, Inc. The Brokerage API enables entrepreneurs, businesses, developers and active traders to solve their trading and brokerage challenges using independent content and tool providers of their choice, at simple and competitive prices.
About Tradier, Inc.
Tradier, Inc. is a cloud-based financial services provider and brokerage API company that offers a groundbreaking platform to serve Platform Providers, Advisors, Developers and Individual Investors. Tradier delivers an innovative set of fully hosted API's, modules and "out of the box" tools that are leveraged by a growing list of providers seeking to create innovative trading and investing experiences.
Created by developers, Tradier is a technology linchpin that works with organizations that want to democratize access to data, trade execution, low cost trading and market connectivity through cloud access. In addition, Tradier's APIs empowers third-party developers to build applications such as algorithmic and robotic trading systems.
The Tradier solution features REST-based and Streaming APIs, and turnkey tools that deliver speed, choice and simplicity, all on a secure platform.
Contacts:
Media Relations
press@tradier.com