Todd Horwitz Commentry
Adam Johnson of Bullseye and Matthew Maley of The Maley Report on OptionsBrew
Adam Johnson of Bullseye and Matthew Maley of The Maley Report on OptionsBrew
---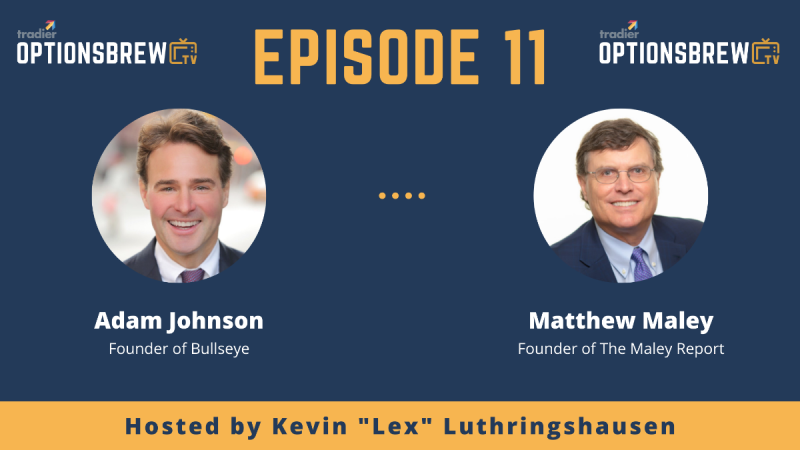 Join Lex and his two dynamic guests, Adam Johnson of Bullseye and Matthew Maley of The Maley Report. Adam previously anchored several daily programs at Bloomberg TV, interviewing CEOs, heads of state, and prominent investors. Matt can be seen regularly on CNBC, Bloomberg TV, TD Ameritrade Network, and Le Fonti. He's quoted regularly by CNBC.com, Bloomberg print, the NY Times, The Financial Times, and Fox News.
This trio will delve into the markets, end of the year tactics, and what to look forward to in 2021.

November 18, 2020, at 6:00 PM Eastern Time
Adam is the Founder of BullseyeBrief.com, an investment letter that explores American Ingenuity through actionable stock picks sent to subscribers twice monthly. Bullseye explores, celebrates, and invests in American Ingenuity, managing a portfolio of 30-40 publicly-traded US equities with a significant runway for growth. These are dynamic, US companies propelling the world forward across multiple industries. Frequent focus sectors include Energy, Health, and Technology. New positions enter the fund based on individual merit, and each shares three defining attributes: great story, compelling data, newsy catalyst. Upside targets and downside alerts are determined in advance to manage risk/reward.
Matt has over 35 years of experience on Wall Street. He spent the first 25 years on the trading desks of Salomon Brothers and Merrill Lynch, covering the trading desks of some of the largest institutional money managers in the business. He's spent the past dozen years in his current position as the Chief Market Strategist at Miller Tabak + Co. Matt speaks with institutions about Marco issues and focuses on key turning points in different markets/asset classes, different groups, and individual stocks. He applies the same principles for individual investors in The Maley Report. He's also the author of two market letters, "The Maley Report" and "The Benzinga Stock Picks with Matt Maley." Regularly, Matt is sending out his stock picks to investors via newsletter, where he's making long-term, intermediate-term, and short-term picks.