Announcement
TradeHawk launches a new innovative active stock and options trading platform that includes total commission-free trading model from Tradier Brokerage
Built by "Traders for Traders" TradeHawk aims to democratize options and equity trading as it combines simplicity and transparent pricing into one platform.
---
Built by "Traders for Traders" TradeHawk aims to democratize options and equity trading as it combines simplicity and transparent pricing into one platform.
Chicago, IL – August 1, 2017 — TradeHawk (mytradehawk.com powered by OptionEyes LLC.), built by a combination of deep-rooted industry and technology experts is pleased to announce the launch of its next generation trading platform. TradeHawk greatly simplifies trading experiences and removes all frictions points for users by enabling unlimited commission-free trading from its platform through its partnership with Tradier Brokerage. TradeHawk offers thoughtful trading and risk management tools that will provide traders a rapid and consistent edge in the market.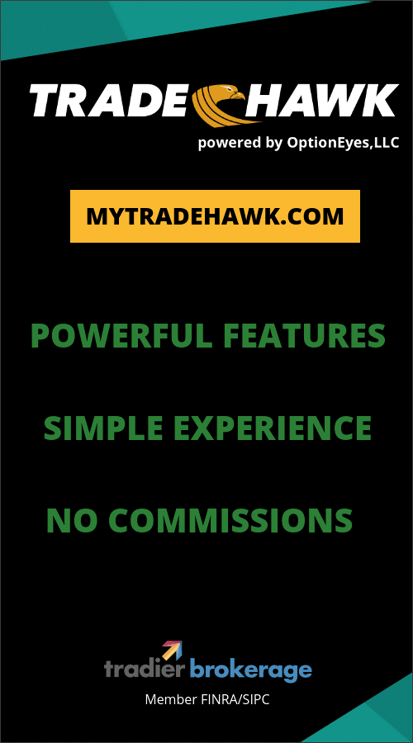 TradeHawk includes intuitive one-click equity and options trading. Other key features include advanced, yet easy-to-understand risk management, dynamic volatility management, spread strategy log, scanners, spread builder, charting, custom layouts and most importantly fully powered with real-time market data. As a part of the launch, TradeHawk will offer a FREE 30-day trial that will include unlimited commission-free equity and options trading from Tradier Brokerage.
Kevin Luthringshausen, Co-Founder and CEO of TradeHawk commented, "The mission at TradeHawk is based on a strong belief that today's active trader has been stifled with legacy user experiences and burdened by complicated and expensive pricing structures. These limitations have hindered active traders from having an edge in the market. We want active traders to have the best platform, great trade insights and then engage confidently in the market without worrying about commissions."
Dan Raju, Founder and Chairman of Tradier said, "Our partnership with TradeHawk and OptionEyes represents our commitment to power the next generation of trading platforms. It humbles everyone at Tradier that we are able to partner with innovative companies like TradeHawk that offer products and choices that in many cases never existed before."
* Tradier Brokerage Inc. passes along all exchange, regulatory and OCC Clearing fees.
About OptionEyes Inc.
TradeHawk by OptionEyes Inc. is a cutting-edge stock and options trading platform designed by professional traders specifically with the active, retail trader and investor in mind.
About Tradier Brokerage Inc.
Tradier Brokerage, Inc. — a member FINRA and SIPC is an independent subsidiary of Tradier, Inc. The Brokerage API enables entrepreneurs, businesses, developers and active traders to solve their trading and brokerage challenges using independent content and tool providers of their choice — at simple and competitive prices.
About Tradier, Inc.
Tradier, Inc. is a cloud-based financial services provider and brokerage API Company that offers a groundbreaking platform to serve Platform Providers, Advisors, Developers and Individual Investors. Tradier delivers an innovative set of fully hosted API's, modules and "out of the box" tools that are leveraged by a growing list of providers seeking to create innovative trading and investing experiences.
Contacts:
Tradier Inc.
11016 Rushmore Drive, Suite 350, Charlotte, NC 28277
TradeHawk by OptionEyes, LLC:
info@optioneyes.com
50 North Brockway, Suite 4-4A, Palatine, IL 60067