Tradier Rundown
Semiconductor Stocks Rebound: The Issues Facing the Sector
The global pandemic that created global supply chain bottlenecks caused a semiconductor shortage that had a substantial economic impact.
---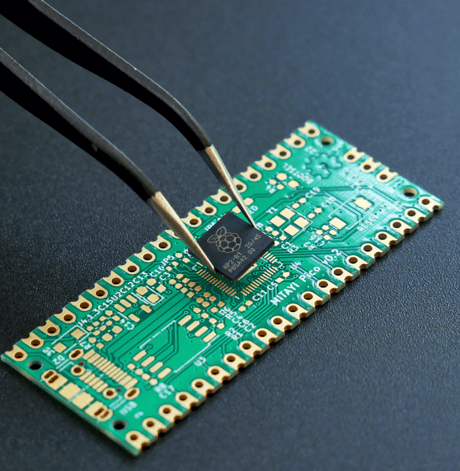 A semiconductor is a material that has an electrical conductivity value falling between a conductor, like copper, and an insulator, like glass. Semiconductors' resistivity decreases as their temperature rises, the opposite behavior of metals. The resistivity factor makes semiconductors critical components in electronic devices that enable advances in communications, computing, healthcare, military systems, transportation, clean energy, and many other applications.

Semiconductors are gallium arsenide, germanium, and silicon, with silicon used in electronic circuit fabrication and gallium arsenide in solar cells and laser diodes. The global pandemic that created global supply chain bottlenecks caused a semiconductor shortage that had a substantial economic impact.
Since mid-October 2022, semiconductor stocks have been in a bullish trend, making higher lows and higher highs. In 2023, a leading semiconductor ETF (SOXX) outperformed the S&P 500.
Outperformance in 2022
At 3,970.99 on March 24, the diversified S&P 500 index was 3.42% higher than the December 30, 2022, closing level.

At $429.45 on March 24, the iShares Semiconductor ETF product (SOXX) was 23.41% higher than the 2022 closing level.

SOXX holds shares of the leading semiconductor producers.

SOXX is a highly liquid ETF. At $429.75 per share, it had an over $7.363 billion market cap, trades an average of more than 935,000 shares daily, and charges a 0.40% management fee.

SOXX pays shareholders a blended $4.37 annual dividend, translating to a 1.02% yield.
The leading companies in the sector
The world's top semiconductor company by market cap is NVIDIA (NVDA). At $267.79 per share on March 24, NVDA had a $671.62 billion value.

Taiwan Semiconductor (TSM), at $92.79 per share, is second, with an over $490.55 billion market cap.

Samsung, Broadcom (AVGO), and ASML (ASML) have market caps above the $250 billion level.

The other leading producers include Texas Instruments (TXN), AMD (AMD), Qualcomm (QCOM), Intel (INTC), and Applied Materials (AMAT), all with over $100 billion market caps.

All these companies are components of the SOXX ETF product.
Semiconductor dropped on the banking issues but recovered and outperformed the S&P 500
Bank failures in the U.S. and concerns over Credit Suisse caused the S&P 500 to drop from 4,078.49 on March 6 to 3,808.86 on March 13, a 6.61% decline.

The SOXX moved from a high of 424.38 on March 6 to a low of $396.48 on March 6.57% drop that kept pace with the S&P 500.

On March 24, the S&P 500 and SOXX were at 3,970.99 and $429.45, respectively. The leading stock market index rose 4.26%, while the SOXX moved 8.32% higher, outperforming the S&P 500.
The geopolitical landscape impacts semiconductors
Taiwan Semiconductor (TSM) is the world's leading contract chip manufacturer, with the bulk of its production in Taiwan.

In Q4 2022, TSM had a 58.5% global semiconductor foundry market share.

The bifurcation of the world's nuclear powers and China's plans for reunification with Taiwan threatens worldwide semiconductor supplies.
Supply shortages are likely to continue, pushing prices and profits higher
The U.S. administration has made efforts to increase U.S. semiconductor production with the CHIPS and Science Act of 2022, providing $52 billion in federal subsidies for domestic semiconductor manufacturing.

Labor shortages are a roadblock for domestic U.S. production.

The U.S. talent pool for semiconductor manufacturing is low and needs to increase.

The U.S. supply chain network bottlenecks challenge semiconductor distribution.

The sector's issues will likely lead to shortages and higher prices, favoring increased profits for existing semiconductor manufacturers and rising share prices.
Thanks for reading, and stay tuned for the next edition of the Tradier Rundown!