Tradier Rundown
Cryptos are Trying to Rally- BITO and BITQ Could Explode
After falling to short-term bottoms in mid-June 2023, Bitcoin and Ethereum prices have taken off on the upside.
---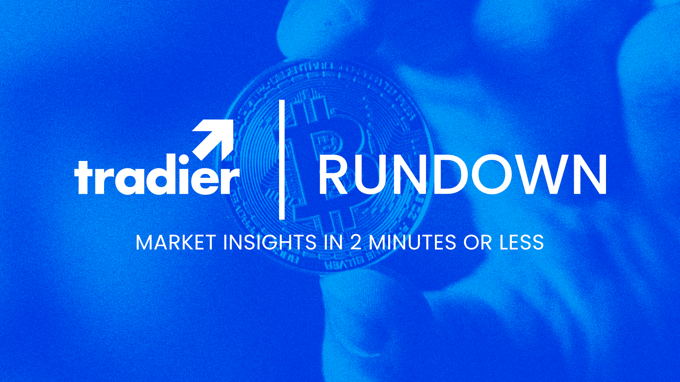 Bitcoin, the leading cryptocurrency, has been the leader for years, and in the current rally, Bitcoin has taken the leadership baton. After falling to $24,815.78 on June 15, Bitcoin exploded 26.5% to a new high for 2023 at $31,392.56, the highest price in a year since June 2022. Bitcoin was trading above the $30,000 resistance level on Friday, June 30.
Ethereum, the second-leading cryptocurrency, rose 18.7% from $1,627.227 to $1,932.774, underperforming Bitcoin. Moreover, Bitcoin rose to a new 2023 high, while Ethereum remains well below its mid-April $2,137.77 peak for 2023. Ethereum was around the $1,850 level on June 30.

The cryptocurrencies have rallied, and if the price action over the past years is a guide, it could be on the verge of an explosive bullish move. Bitcoin is the leader of the crypto pack, and its performance is a sign that this rally could be for real.


Regulations on smaller cryptos could be more onerous- The number of cryptos continues to rise
Bitcoin is on the edge of a bullish springboard at the $30,000 level
Bitcoin prices have rallied to a new high for 2023 at $31,392.56 on June 23.

Technical resistance stands at the May 2022 $32,329.54 high.

Bitcoin was just above $30,000 per token on Friday, June 30.

Bitcoin nearly doubled from the November 2022 low at the current price level.
BITO is a Bitcoin futures ETF with two regulatory layers
BITO is an ETF that tracks CME Bitcoin futures prices.

BITO rallied over 76% from $9.48 in November 2022 to $16.77 on June 30.

BITO offers two regulatory levels. The CFTC regulates the CME futures, and the SEC the ETFs that trade on NYSE Arca.
BITQ tracks Bitcoin prices
BITQ is the Bitwise Crypto Industry Innovators ETF that holds shares in Bitcoin-related companies, including, but not limited to, platforms and miners.

BITQ moved 146% higher from $3.20 in December 2022 to $7.89 on June 30.

BITQ is regulated by the SEC as it trades on NYSE Arca, and its holdings are publicly traded, regulated companies.
Volatility involves risks- Capital invested is at 100% risk
Investing in cryptos, related companies, or ETF products is a misnomer, as risk makes them speculative.

The potential for significant profits comes with commensurate risks of loss.

Only invest capital you can afford to lose.

Trend-following and the boom-and-bust history suggest another boom period could be on the horizon for Bitcoin, the leading cryptocurrency.

Cryptos and blockchain reflect technological innovation in finance. The debate over the future of the asset class with a $1.17 trillion market cap remains heated.
Thanks for reading, and stay tuned for the next edition of the Tradier Rundown!